Saflex is a quality laminated glass interlayer manufacturer and solution provider, which is owned by Eastman.
Saflex has a variety of interlayer choices from Saflex Acoustic, Saflex Clear, Saflex Solar, Saflex Storm, Saflex Structural, to the latest New Saflex Crystal Clear. 
Modern structure styles highlight liberal use of glass. Nonetheless, noise transmission can be substantial with ordinary glass. The solution to a noise issue is not much less glass, yet the use of ingenious laminated safety glass made with Saflex ® Acoustic PVB interlayer. The interlayer targets noises in the 1000-4000HZ range for exceptional noise damping in laminated glass.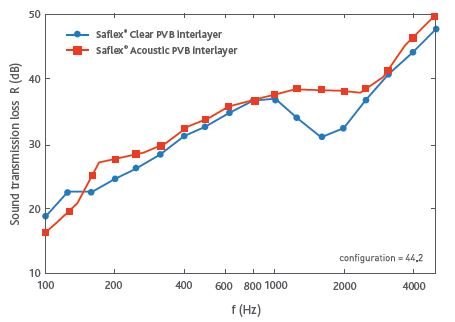 Saflex Acoustic PVB interlayer is highly compatible with Vanceva® Colors interlayers, architects and designers can create spaces without any flexibility.
It is widely used in curtain walls, facades, windows, doors,  meeting rooms, hospitals, classrooms, and any other places where acoustic performance is needed.
The most commonly used interlayers in the market, with R Grade & F Grade on the different price levels.
Saflex Clear interlayer adds extra safety and security to laminated glass applications. Unlike ordinary single glazing, laminated glass with Saflex interlayer reduces the risk of broken glass. Because the interlayer sticks together even after the glass broken. Thus increase the safety coefficients when the glass broke into shards or small particles. 
It is widely used in both interior and exterior applications. From internal partitions, furniture, handrails, floor systems to external facades, windows and doors, canopies, skylights, etc.
Safelex Crystal Clear interlayer is specially designed for low iron glass combinations, with a stunning appearance and perfect aesthetic.
With an incredible 100 CRI value, it will not damp any daylight through the glass. Thus, it is a new choice for a frameless system wherever neutrality and high transparency needed places.
Saflex® Solar PVB interlayers: with high visible light transmission, infrared radiation-absorbing interlayers. Designing to increase SHGC performance in laminated glass products compared with normal PVB interlayers. 
There are two choices in the Solar interlayers: Solar SG with the highest performance and Solar SH with a neutral appearance. They both compatible with other Saflex interlayers range Saflex® Clear, Storm, Structural, Vanceva, etc.
Saflex® Solar PVB Benefits: with 0.65 SHGC and 70% higher visible light transmittance.
Applied on the facade, overhead glazing, skylight, windows, and doors, wherever solar control performance needed.
Saflex Storm interlayer designed for laminated glass in storm & cyclone district. It possesses all the characteristics of the Saflex Clear interlayer, besides, providing extra impact resistance and extra protection against windborne debris.
Saflex Storm is a complex material of PVB and Film. Wither high compatibility, it is along with tear resistance, forced entry resistance, and UV light filtration.
Applied on curtain walls, storm windows and doors system, canopy, etc.
Saflex Structural interlayer provides for extra strength for laminated glass, with more rigidity and adhesion performance. 
Since higher stiffness and intention properties, designers and architects can achieve the same wind load design by using a thinner glazing unit. Thus reduce the glass and supporting frame weight of the whole curtain wall system.
Compatible with other Saflex interlayer range and different glasses. With superior edge stability while exposed outside, enhanced strength on oversized glass and thinner glass, superwide 3.2 meters to improve interlayer yielding rates and reduce costs.
It is widely applied on exposed applications, including handrails, balustrade systems, sloped glazing, etc.
Ordinary Clear PVB interlayer blocks 99% UV light to 380nm wavelength. However, Saflex  UV interlayer filters 99% UV light to 400nm wavelength.
As we know, UV light fading indoor furniture, floors, and wallpapers. Saflex UV interlayer becomes the main choice when considering protecting our indoor properties. Besides, it provides all the benefits of normal PVB interlayer, from structural integrality, noise attenuation, and forced entry protection, etc.
Main applications: museums, exhibition centers, hospitals, baby centers, furniture markets, antique stores, etc.
Conclusion
As the leading interlayer manufacturer, Saflex provides a large number of PVB solutions based on different applications. 
From most widely used Clear interlayer, residential and commercial used Acoustic interlayer, higher transmittance Solar interlayer, cyclone, and storm used Storm interlayer, exposed Structural interlayer, UV light attenuation interlayer, and the Newest groundbreaking Crystal Clear interlayer to improve the glass appearance.