It is a phenomenon of compressing the heated air by high atmospheric pressure, which is supposed to be emitted outside the atmosphere layer. Appears in some area of US & Canada, June 2021.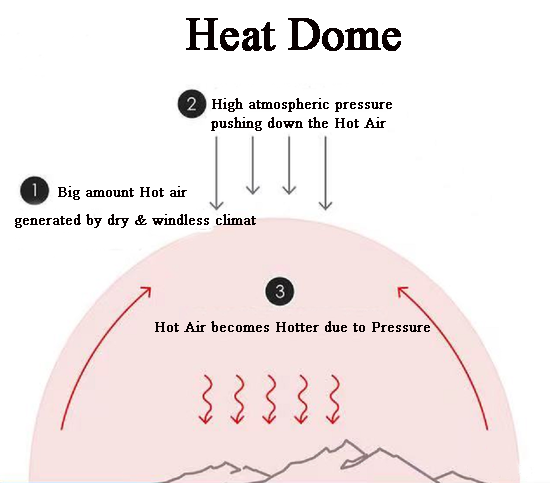 From June 26~28th, due to continuously high-temperature weather in Canada & the US, over 700 people dead in a week.
Leiden Town, which was supposed to be the most livable place, breaks the highest temperature record 49.6 degrees. All the town was burnt in fire due to bushfire caused by the extremely high temperature.
Relation with Glass
Due to global warming, Heat & Solar control becomes more and more critical when choosing the glass for the buildings. 
Compared with normal solar controlled glass and double silver Low-E glass, triple silver Low-e glass has superior solar & heat control performance, as well as energy-saving performance.
Triple Silver LowE Glass Status
Glass companies are requested to offer products that maximize both building and occupant performance, to meet the stringent green codes and certifications.
It's no longer enough to supply a simple IGU (insulating glass unit) that meets the heat transfer request (the U factor). Light transmittance, light reflectance, and solar heat gain have to be considered when choosing the suitable glass to make IGU.
Since the birth of LowE glass (low emissivity glass), glass giants worldwide are making an unremitting endeavor to improve glass performance. From single silver Lowe glass, double silver Lowe glass to triple silver Lowe glass, even quad-triple silver Lowe glass.
With extreme solar heat gain control and low heat transfer, triple silver Lowe glass is becoming the primary choice for high-end commercial buildings and offices.
Here is a list of the main triple silver Lowe glass from the leading manufacturers, and the alternative triple silver Lowe glass we can provide:
Hot-selling Triple Silver IGU in the world
Manufacturer
Glass Composition
Visible Light
SC
SHGC
U Value
Trans
Rout
Rin
W/m2.K
PPG
6 Solarban 70+12A+6
64
12
13
0.31
0.27
1.59
SGG
6 Xtreme 60/28 II+12+6
60
14
17
0.33
0.28
1.5
AGC
6 Energy Select28+12+6
62
13
14
0.32
0.28
1.65
Guardian
6 SunGuard SN62/27+12+6
62
11
12
0.31
0.27
1.65
Cardinal
6 LoE 366+12+6
63
11
11
0.31
0.27
1.65
China JJ
6 JJ 70XL+12A+6
64
12
13
0.31
0.27
1.59
China TG
6 TG PT70+12A+6
62
10
13
0.33
0.29
1.63
Conclusion
Except for the above two standard triple silver lowe types, we have several more coated on Low iron glass and colored glass substrates.
For any information needed, please feel free to drop us an email support@elitesafetyglass.com.